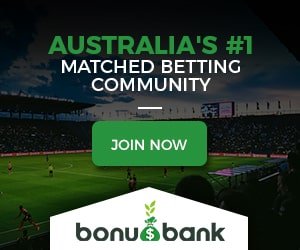 I make $1000+ from home every month with the 2nd/3rd place racing software & daily plays alone, Click Here and use the code NFLOZ for 25% off your first month.
If you don't know how we profit from these offers every week, read the Matched Betting Australia tutorial and join the Facebook group to ask how we turn common promos into cash profit. If you know how to profit from these already you can use the matched betting calculator to find your qualifier losses. Also this is just informational, I'm not responsible for any arbitrage bets you decide to place or any mistakes in the plays, so always double check you're eligible for the plays!
NRL - STORM V RABBITOHS & PANTHERS V WARRIORS
Sportsbet
4 up or more at HT, EARLY PO
Tab
Wins by 6+ GET DOUBLE!
Bet365
16 points ahead - EARLY P/O
Ladbrokes
Lead by 4 points or more at half time - EARLY P/O
Sportsbet
4 up or more at half time EARLY P/O
TabTouch
Win and any player scores two or more tries, GET DOUBLE
Pointsbet
Lead at HT, EARLY PO
BUNDISLIGA
Tab
Scores first but doesn't win
Ubet
Scores first but doesn't win
Bet365
2 UP Play
WAGGA
Tab (NSW and ACT only, make sure to double check)
Tab App Races 1-2
DONALD
Tab(VIC only)
Tab App Races 1-2
TOOWOOMBA
Ladbrokes
Races 1-2