If you don't know how to profit from these offers, ask in the Facebook group, if you're not a member you can request access
here
. You can also find out more in the
matched betting blog
.
To find out the back and lay amounts to back and lay your arbitrage bets you can use the matched betting calculator here.
We'll be placing a lot of back and lay bets each day over the next month. If you want to keep track of your bets, profits, and qualifier losses, use the built in one-click betting log in the free matched betting calculator here.
As always, check the T&Cs yourself before placing your bets, this is information only and I can easily overlook something. (If I do please let me know)
1) William Hill – $11 for each goal
William Hill – $11 in bonus bets for every goal your team score.

Selection - France V Belgium
How we play this;
You must opt in to this bet on their promotion page
Chase the goal get $11 in Bonus bets. For every goal your team scores if they win the match, minimum bet $20. Simply back and lay the team you think have a better chance of winning or have the smallest qualifier loss.
If you have not started Matched Betting with William Hill yet you can sign up here.
2) Sportsbet – Double Winnings.
Up to $50 in bonus bets ($35 cash profit)
Selection - Semi Finals games
How we play this;
Basically we back and lay the favourite making a very small qualifier loss and if we win for example $50 we will then be rewarded a $50 bonus bet on top of this. These offers are great and usually very profitable. The team needs to win in regular time.
As this offer is likely to hit on any favourites I will take up to a 10-15% qualifier loss on each bet (about $3-5). Usually you can get much closer odds when the game is close to kick off and I reckon it will be easy to get much lower qualifier loss amounts.
We made over $2700 in June with Bonusbank, our biggest month so far. Here's a free trial.
These type of plays are posted on Bonusbank daily and you can find out how to guarantee a profit on most games by dutch betting several bookies against each other during the world cup, while having the chance to win huge if the bonus offers activate.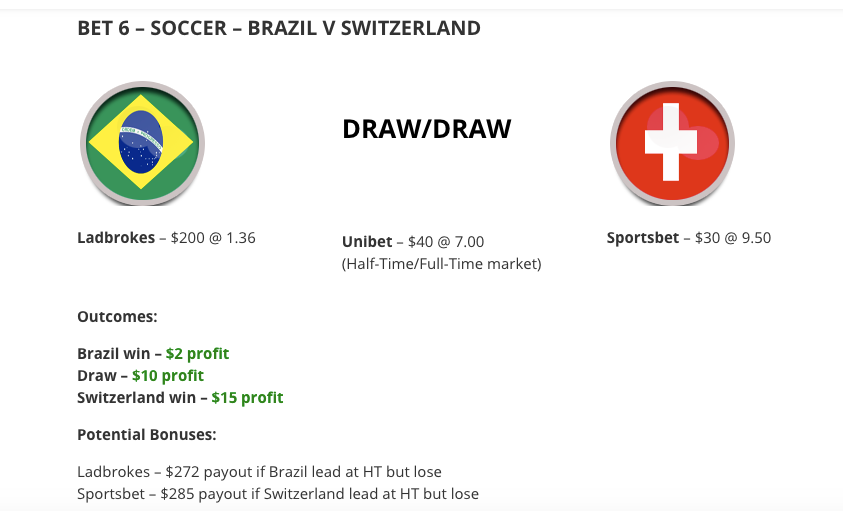 Also, if would want to extract the most profit from each bonus bet, easily up to 80%, and not have to manually search for close games with good odds, you can use the oddmatcher to find the closest odds for any Australian bookie vs betfair automatically with the free BonusBank 7-day trial. You can sign up here using the code MBOZAFL for a free 7 days and try out their oddsmatcher and full service.