If you don't know how to profit from these offers, ask in the Facebook group, if you're not a member you can request access
here
. You can also find out more in the
matched betting blog
.
To find out the back and lay amounts to back and lay your arbitrage bets you can use the matched betting calculator here.
As always, check the T&Cs yourself before placing your bets, this is information only and I can easily overlook something. (If I do please let me know)
If you need any help just ask us in the facebook group here or in the comments below.
1) State of Origin Promotions
Dutching Sportsbet V Bet365 Promotions
Selection 1 - Sportsbet promo pays out if your team leads by 8 points
Selection 2 - Bet365 promo pays out if your team leads by 12 points
The best way to play this offer
We will be using the dutch betting calculator to back both sides of this bet. You can see how we find out how much to place on each side to balance the bet out in the image below.
I have opted for a potential a $110 cash profit in the example below giving me a $4.39 qualifier loss. You can adjust the amount you want to risk and potentially win by entering a lower or higher figure into the total stake field. Max bet is $500 I believe but if you're putting this much on check the T&Cs to confirm*
NOTE: Make sure to place round number bets with the bookmakers, for example, my first selection is $49.16 so I will place a $50 bet on Sportsbet side of the bet and $65 on the Bet365 side.
So I backed $50 on Queensland on Sportsbet at current odds of 2.25, then $65 on NSW with Bet365 at odds of 1.68
Potential outcomes. (Note - unlike the sign-up offers these type of promo bets are not guaranteed profit every time, however over a period of time they are very profitable and how we make money consistently over time.
NSW lead by 8 points and lose = $106 profit
Queensland lead by 12 points and lose = $106 profit
Any other outcome = $4.39 loss
We made over $2700 in June with Bonusbank, our biggest month so far. Here's a free trial.
These type of plays are how we make so much profit each month, many more are posted on Bonusbank daily and you can find out how to guarantee a profit on most games by dutch betting several bookies against each other. As you can see in the example below, in this game we were guaranteed profit with the chance to win $300 more if any bonus activated!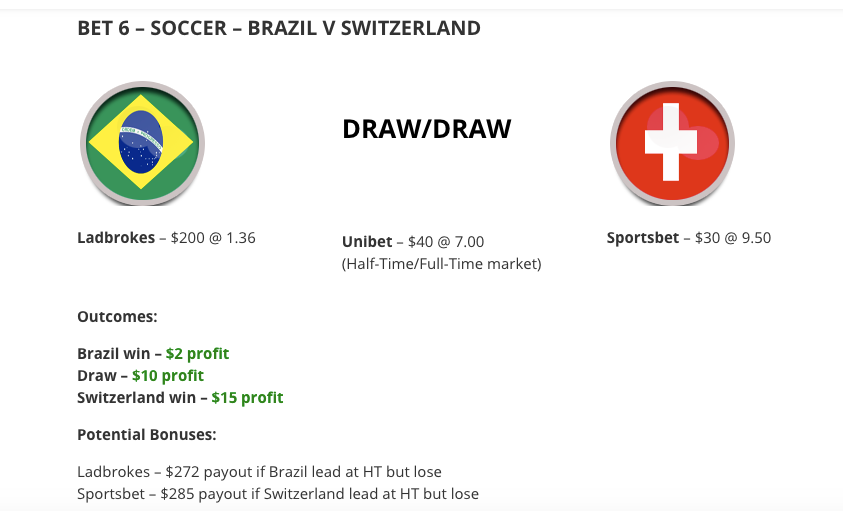 Also, to extract the most profit from each bonus bet, easily up to 80%, and not manually search for close odds, you can use the oddmatcher to find the closest odds for any Australian bookie vs betfair automatically with the free BonusBank 7-day trial. You can sign up here using the code MBOZAFL for a free 7 days and try out their full service with no risk.