le
5 Quick Points
There's no gambling involved, we'll be extracting risk-free cash from the sign-up bonus offers that each Aussie bookmaker offers to new customers. USA readers can find a separate tutorial here.
Anybody with a residence (even temporary WHV is okay) in Australia can make up to $175 with this no risk matched betting guide.
The tutorial is detailed but the process is simple. I want to be comprehensive so please read through once to get the idea before completing the 8-step guide, make sure you understand how it works and don't rush it.
After we extract the profit from the first sign-up bonus bet, we can then replicate this technique with the sign-up bonuses being offered by all the other big online bookmakers.
The only risk is a human error so if you have any questions just ask at [email protected], leave a comment below or ask in the Facebook group.
Request Access To The Facebook Group Here
What Is No Risk Matched Betting?
"No Risk Matched betting is a betting technique used by individuals to profit from the free bets and incentives offered by bookmakers. It is generally considered risk-free as it is based on the application of a mathematical equation rather than chance" - Wikipedia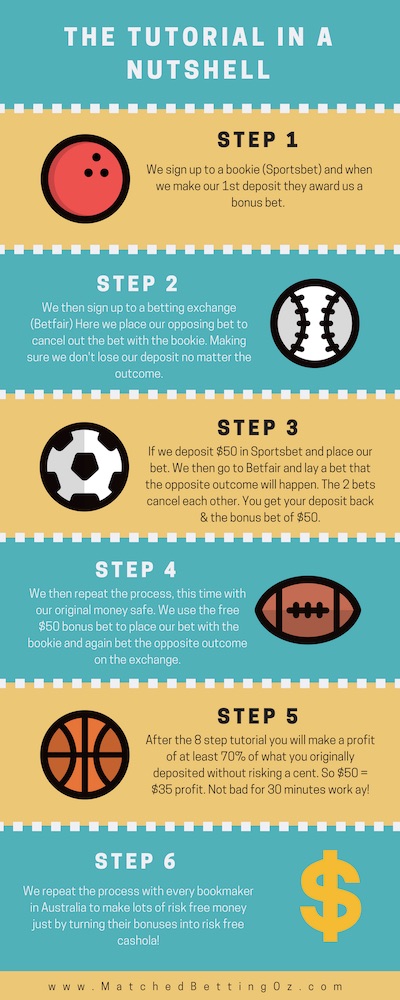 How Is no risk matched b

etting 100% Risk-Free?
"We leverage free bonus bets and turn them into cash without risk."
We make our money through the generosity of the bookies, each bookie offers a sign-up bonus usually matching your first deposit up until a certain amount. (Eg. if your Qualifying Bet is $50 you will be awarded a Bonus Bet of $50 = $35 no-risk profit). So we leverage these free bonus bets and turn them into cash without risk.
Generally, the bookie wants you to bet through your deposit first to qualify for the free bet. Don't worry we're too clever for that gambling nonsense. This is why we both back and lay the bet on two different bookmakers as explained in the tutorial. Hence we cover both outcomes ensuring we do not lose our original deposit and by unlocking our bonus bet that we can extract our profits from later.
Is matched betting legal?
Yes, you are free to do what you like with your sign-up bonus bets. The bookies would of course rather you gamble it blindly, but in this tutorial, you will see how we guarantee a profit from it by using the matched betting technique in the 8 steps below.

Terminology
Some terms you should be aware of before starting the 8 step guide
So to complete the tutorial we are going to be using the soccer market and Sportsbet.com.au to get our free bonus bet, again if you already have an account or have trouble getting the bonus you can try any of the bookmakers here. We will also need to calculate exactly how much to lay on the exchange to cancel out the back bet as the odds vary on both sites. We have the matched betting calculator that does all this math for is for us, this is explained in the guide.
Following the guide you will make a profit of 70%+ of your initial deposit in profit in about 30 minutes. Remember don't rush it and double check everything as you go along to make sure everything adds up for you. See you on the other side, slightly richer 🙂
"if your Qualifying Bet is $50 you will be awarded a Bonus Bet of $50 = $35 no-risk profit"
For this guide, I deposited $50 granting me a $50 free bet (with this I can expect around $35 risk-free profit). If you deposited any other amount and were awarded a different bonus, just enter this instead of the $50 in my examples. Remember you do not lose or risk this initial deposit, you get it all back with your profit.
The 8-Step No Risk Matched Betting Australia Guide 2018
All done, congratulations on completing the no risk matched betting guide and making your first profits. If you've any questions about matched betting Australia feel free to ask me in the facebook group or leave a comment below.
First profits from the sign-up bonus, nice … but what now?
Once you made your first profit with the tutorial I would recommend going through the other big bookmakers sign up bonuses before getting into any daily promo offers that we profit from. You can find a list of the easiest ones to complete here.