UPDATE: Sign-Up Bonus Bet Ban Australia 2018
TL;DR - (too long didn't read) -
Sign up bonus bets for NSW will be gone from the 27th of May so get through them before that date if you're waiting to start. If you already have, we will continue to receive promotional offers as members of the bookie site as long as we opt in to their promotions manually. You can see the easiest bonuses to get through here.
---
UPDATE - This ban has been pushed back until July 2nd*
The day is quickly approaching, last year we were told that this June all inducements (enticing people to bet) would be banned across Australia. More details are now beginning to surface. It's important to note that this is only going to impact the initial sign-up bonuses. So we can continue with our regular matched betting profits for now.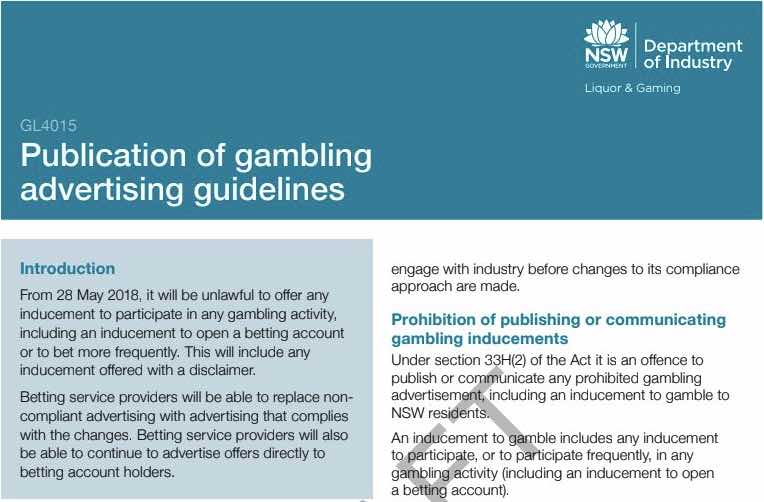 "betting service providers will also be able to continue to advertise offers directly to betting account holders"
This sounds positive for the future of matched betting however we will have to see how this all plays out, newcomers will lose the sign up bonuses over the next year, however we can all continue to make weekly profits with the other promotions..
The first state to implement this ban will be NSW on the 28th of May
The first state to implement this ban will be NSW on the 28th of May. This means that from this day forward it will be against the law for any bookmaker to offer an incentive for new members to sign up. I know this sounds familiar to what we have already. I'm sure you noticed that every sign up offer already has "Not available to NSW, VIC, WA and SA members".
Apparently, that's not enough, so it is now completely banned to show these type of ads to customers from NSW. If you're from NSW, from the 28th you are not allowed to look at these ads anymore in case you can not control yourself 😉 You will not be seeing any promotional offers advertised on the Internet, TV or the Radio anymore. There are not a lot more details than that at the moment but here are some things that have surfaced, I will post in the facebook group as things begin to change.
Some things we know
1) From the 28th you will not be able to get a sign up bonus from NSW, other states will follow throughout the year.
2) For now bookmakers will continue giving promotions to current members, which is great for us, we can continue to make regular profits.
3) Bookmakers will no longer be allowed to add turnover requirements to our bonus bets as this was forcing people to bet more after enticing them. This is very good news for us.
4) We'll have to manually opt-in to receive promotions on each bookie site. Each bookmaker will likely send out emails telling us to do so. Bet365 already have.
5) Bonus incentives to refer a friend will not be allowed anymore.
if you have not completed some of the sign up bonuses or at least signed up and got them credited to your account, I would do it before the 28th
All I can recommend is that if you have not completed some of the
sign up bonuses here
or at least signed up and got them credited to your account, I would do it before the 27th.
When does the sign up offer ban come into place?
NSW = 28th May
WA - To be confirmed (Likely not for several months)
SA - To be confirmed
QLD - To be confirmed
What does this mean to my matched betting profits?
Likely nothing if you have already signed up to all the bookies and completed the sign up offers. From what I can see, the type of offers that we profit from each week in the daily offers section will be unaffected. But only time will tell for sure. I'm hoping they will use the funds saved from giving out huge sign up incentives to give even better offers to the people who are already members of the site. Very plausible as they will still have to compete to keep customers.
Is it too late to start matched betting?
Not at all, although if possible I would recommend you get started as soon as possible and do the initial sign up offers before they are gone forever, they are a great way to start matched betting as you can make a lot of big profit early on, anything up to $2-3k+ easily by matched betting the $200-$500 promos, or even just a small side income. You can use the matched betting tutorial to see how we guarantee profit.
Even if you miss out on these, you can still make profits from all the daily and weekly promotions that the bookies have and can still make up to $1000 per month matched betting. A good example will be the world cup coming soon, they will be fiercely competing with great offers that we will be able to turn into big profits as always.
So what's next for the matched betting community?
Well I'm excited about the future even though we're losing the initial sign-up bonus bets which was always a great way to start matched betting. I'm optimistic because I finished them years ago and have been making great profits ever since. I'd recommend you do the same and move onto the daily promos so you can keep profiting too!
1) More daily offers
Bookmakers will have a lot more money saved from advertising the large sign up bonus bets and still have to compete with each other! Offers like the lead by xx and get paid out have make us thousands through the year, this is one of the reasons I made over $1800 with Bonusbank in March alone. My guess is that they will ramp these type of promos up! Now is a great time to try the free trial of Bonusbank using the code MBOZAFL to try it for 7-days for free.
2) The world cup.
Once the games start we are going to seen a lot of great offers we can profit from. During the Euros in 2016, Tab offered a $50 refund for every game that ended a draw, hopefully we see the same again here! Join the Facebook group here to stay on top of them.
3) Crypto Arbitrage Betting
Arbitrage betting with Bitcoin is a new market but I have been testing this out and making some nice profits, it's still a little risky but only because the betting sites are so new. The arbitrage is the same as with traditional bookmakers. but in the future this could really be something big for us. If you're into crypto you can read about it here.
Here's to a profitable 2018 🙂