If you don't know how to profit from these offers, ask in the Facebook group, if you're not a member you can request access
here
. You can also find out more in the
matched betting blog
.
To find out the back and lay amounts to back and lay your arbitrage bets you can use the matched betting calculator here.
We'll be placing a lot of back and lay bets each day over the next month. If you want to keep track of your bets, profits, and qualifier losses, use the built in one-click betting log in the free matched betting calculator here.
As always, check the T&Cs yourself before placing your bets, this is information only and I can easily overlook something. (If I do please let me know)
So take your time if you're a beginner and maybe don't try do too much each day as you might be prone to make a mistake. If you need any help just ask us in the facebook group here or in the comments below.
Here's to a great month 🙂
1) Sportsbet – Lead by HT and they pay out as a winner.
Up to $500 per game
Selection - Every Game Of The Group Stages
How we play this;
There are several ways to play these, you can simply choose the back and lay option. This means that if a team goes up at half time and Sportsbet pay out you can then cash out the other side of the bet to lock in a small guaranteed profit if there is a comeback. (You will need a VPN to connect to the UK or NZ Betfair, Aussie Betfair does not allow in play betting)
Another option is waiting for the other team to bring the game to a draw or win in the second half so that I will then get paid out on both sides of the bet.
You can also dutch against a few bookmakers to guarantee a profit but for this I recommend you use a service like Bonusbank to do the hard work for you (7-day trial available here with code MBOZAFL). Here is an example of how you can guarantee profit and also have a shot at getting a big win.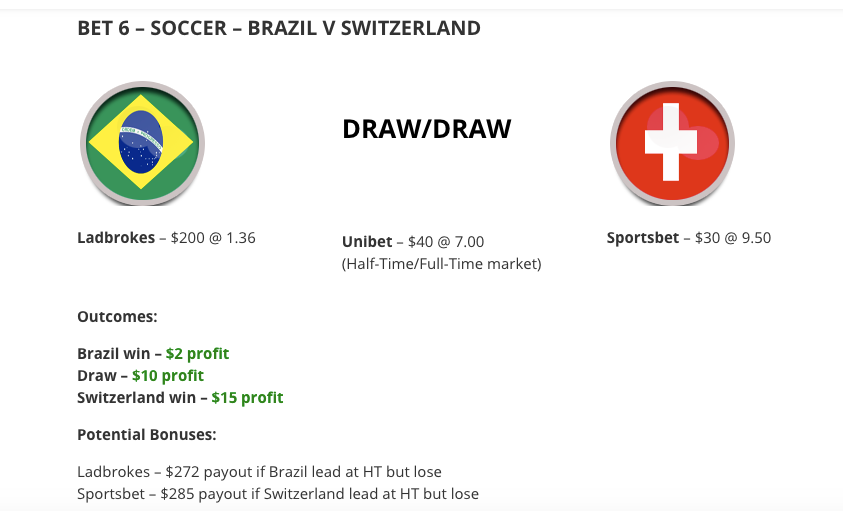 How you play these offers really depends on how much bank roll you have and if you can handle the variance. I expect this one to be massively profitable over the group stages.
2) Tab & Ubet– $50 Bonus if your selection lead at any time & lose
Potential Profit - Up to $50 bonus per game ($35 cash)
Selection - Every Game Of The Group Stages

This is a great offer, very likely to be profitable over the tournament, similar to the above Sportsbet offer but this is lead at any time and lose (not just HT so it more likely to hit more often) especially the closer games. I would take a qualifier loss of anything less than <10% for this one. So for a $50 bonus I would place a qualifier up to $3-4 as the return in cash on the $50 bonus would bet 70% into cash so $35.
3) Crownbet – $100 in bonus bets for each Aussie win.
Potential Profit - Up to $100 bonus per Australia game ($70 cash)
Selection - Every Game Of The Group Stages

Place a bet on any World Cup Group Stage match and you'll get a $100 Bonus Bet for each match the Socceroos win.
This offer is great, minimum bet is $1 according to their terms and conditions. I would double check though just before the tournament starts. Probably back and lay a little more then $1 so it's not obvious you're trying to exploit the bonus 😉
4) Betting.Club – $50 Bonus if score 1st & lose
Potential Profit - Up to $50 bonus per game ($35 cash)
Selection - Every Game Of The Group Stages

Place a bet in the Match Result market of any World Cup match and if your selection scores the first goal but loses the match, you'll receive a bonus bet to the value of your original stake. Up to $50.
This offer is not too likely to activate too much but if you can get a qualifier loss of <5% I would recommend giving them a shot.
More Guaranteed Profits & Getting More Than 70% Profit From Each Bonus.
These type of plays are posted on Bonusbank daily and you can find out how to guarantee a profit on most games by dutch betting several bookies against each other during the world cup, while having the chance to win huge if the bonus offers activate.
Also, if would want to extract the most profit from each bonus bet, easily up to 80%, and not have to manually search for close games with good odds, you can use the oddmatcher to find the closest odds for any Australian bookie vs betfair automatically with the free BonusBank 7-day trial. You can sign up here using the code MBOZAFL for a free 7 days and try out their oddsmatcher and full service.