Arbitrage Betting Australia
4 ways to profit after sign-up bonuses
Extracting bonus bets from daily promos & turning them into cash.
The most common way we profit after the sign up bonus bets is to play the best value promos offered each week by bookmakers and lay them on the exchange.
We can make a very small loss to leave us with the possibility of gaining a large bonus, we then turn this straight into risk free cash. It's easier then it might sound.
An example; with crownbet at certain times of the season, if you bet $20, you get $1.10 in bonus cash for every point your team scores if they win. So we simply back the favourite and lay the opposite outcome on betfair to make a loss of less that $1. Then anytime they win we are in for a very nice profit. The risk/reward is insanely in our favour, $1 potential loss to win up to $30 in a lot of cases. Over time we make a lot of cash with these type of offers.
There is a new service that posts these offers daily and tells you how to play them to sustain nice profits every week.
I have been using it and below is the profit and loss graph from since I joined.
I now use these guys myself every day and made over $12,000 with them in the last 12 months. The daily profit and loss is here to give you an idea of what to expect most weeks.
You can read the Bonusbank review here and see how, or just sign up for a free 7-day trial to check it out for yourself by entering the code MBOZAFL when going premium.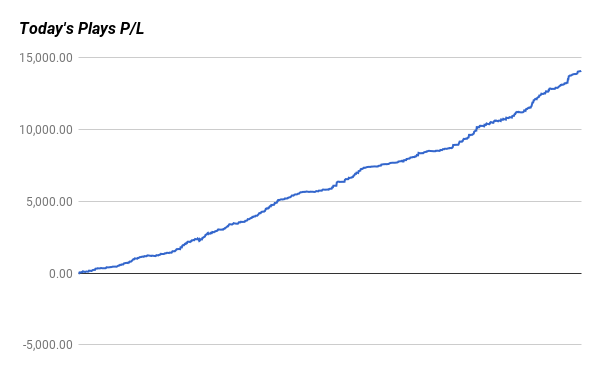 2) Arbitrage Betting
Arbitrage betting or "Arbing" is an extension of the technique used to get free money from the bonus bets offered in the no-risk matched betting Australia guide.
Betting arbitrages are sure bets, sports arbitraging happens when betting markets on the bookmakers' and betting exchanges have different opinions on event outcomes or sometimes there are simply just errors in the bookmakers odds, leaving us with an opportunity to back the bet with the bookmaker at above average odds and lay it off at the exchange, guaranteeing a profit regardless of what outcome there is.
How To Find Arbitrage Bets?
There are lots of sites that have software that will show you when a bookmaker is giving exceptionally good odds for a back bet, then they will compare it to the odds and Betfair and tell you how much you will win if you back with the generous odds and then lay the bet off on Betfair at lower odds. These are called oddsmatchers and they constantly scan the market.
There are two oddsmatchers I use because I can do both matched betting in Australia and the UK. If you are in the UK I would go with Oddsmonkey.
If you are matched betting in Australia as above I would recommend BonusBank, I have been using them for over a year now and make a lot of money using the service.
We use the Oddsmatchers on theses sites to automatically find games that have higher back odds for a game then lay odds. Below is an example of an arb found for betting.club.
The odds to back this outcome of lyon winning both halves of the game are back @ 2.5 and lay at 2.04.
In the calculator in the next section we see our profit if we place these back/lay bets regardless of the outcome.

Sports Arb Calculator
It is important to note that arbitrage betting is best avoided until you finish your sign up bonus bets. Don't go crazy with them either otherwise the bookmaker will promo ban or limit your account.
"So if we were to place $100 on this real life example Arb opportunity for Lyon to win both halves with betting.club and lay it off on the exchange (Betfair) we would make a guaranteed profit of $19.35"
Once the oddsmatcher finds favourable odds for the arb, use the "qualifier bet" option on the matched betting calculator.
So if we were to place $100 on this real life example Arb opportunity for Lyon to win both halves with betting.club and lay it off on the exchange (Betfair) we would make a guaranteed profit of $19.35.
For these opportunities alone it is worth trying out the Australian Oddsmatcher for yourself.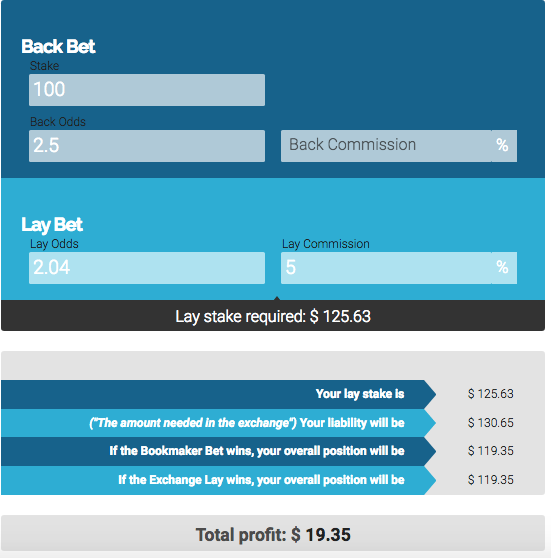 Best Bookies For Arbing in Australia
Almost all bookies in Australia offer competitive odds at different stages, some like. Just make sure you don't just keep hammering one bookmaker as they will notice quickly and stop you using their site. Sites like Ladbrokes that do not have many weekly promos are best, if they promo ban you it is not a big deal.
They also have something called odds boost, On one horse race a day they boost your odds, if you boost the odds with the bookmaker and then lay the bet on the exchange as per the sports arb calculator you can make a nice few dollars risk free most days, for 5 minutes work.
3) Reload offers 
This is one of the best things about matched betting, you can check your email one morning to find the bookmakers have left a matched deposit bonus offer. Its pretty much free cash.
Bookies will often try entice you back to the site by emailing you bonus bets. I often get emailed from Sportsbet and Luxbet with $100 bonus bets.

MB TIP: Every few months it is worth asking on live chat for reload bonus, you would be surprised how often they offer you something.
On top of this, you will get the offers of enhanced odds. These can be used to back bet at high odds and then laying off the bet for a profit. Beware though, if you only ever use the site for special offers and bonus bets they will stop sending them to you.
To avoid this every once in a while you should place random bets and lay them off on the betting exchange. as explained in the mug bet section of the free ebook.
4) Help your friends start matched betting and share the profits
This is not for everybody but if you have a lot of friends who are not exactly computer literate, you could simply explain matched betting to them and then offer to help them to do it with their own accounts.
If you can sign them up to all the betting websites and split the profit 50/50 that is at least an extra $1000 per friend you help get into matched betting. It all adds up to some incredible risk free profits.
If you are thinking about doing this for your friends and might be using the same computer you should consider getting a VPN for matched betting to keep your details and identity safe.
Take Action - Ask A friend If He Wants To Get Involved!